Volta air heater with regular connection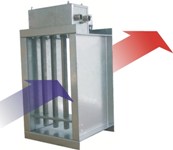 The proven alternative

Air heaters with a normal connection have been used for decades and represent a very inexpensive, reliable and proven alternative.
All heating elements are wired outside the air duct under the cover.
The entire electrical connection is protected by a cover made of sheet metal, PG cable glands made of metal are provided for cable entry. A connection with heat-resistant cables is recommended, since depending on the application and size of the air heater, temperatures greater than 60 ° C can also occur inside the hood
The use of air heaters with a normal connection is primarily intended for small air heaters with a heating output between 0 ... 10kW, but has also proven itself in special applications (food, mechanical engineering, etc.).
Alignment with customer needs

Air heaters with normal connection are available with and without housing. The electrical connection value as well as the housing dimensions can be completely adjusted according to customer requirements.
VOLTA air heaters are precisely tailored to customer requirements and not "only roughly" as is often the case with standard solutions.