Active principle of cold connection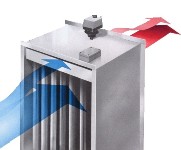 Optimal energy yield and efficiency
Air heaters with a cold connection represent an optimum of energy yield and efficiency within the product range of electrical air heaters in general. At the same time, there is the advantage that no heat-resistant cables are required for the on-site connection.
Efficiency
The cold connection optimally exploits the efficiency between energy absorption and energy delivery to the air flow.
Alignment with customer needs
Air heaters with cold connection are available with and without housing. The electrical connection value as well as the housing dimensions can be completely adjusted according to customer requirements. Air heaters are precisely tailored to customer requirements and not "only roughly" as is often the case with standard solutions.