Volta air heater with housing with cold connection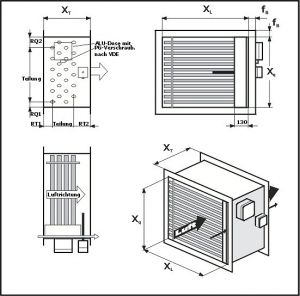 Volta air heaters consist of sheet metal 1.0mm, 1.5mm or 2mm, depending on the mechanical load and size of the air heater to be built.
Air heaters with housings are basically constructed the same way as air heaters without housings. The flange plate forms one of 4 side walls of the rectangular / square housing with all-round flanges at the air inlet and outlet.
It is used with duct installation in air conditioning technology, plant engineering and other industries.
Hot-dip galvanized sheet or stainless steel sheets are available as materials. 1.4301 is mainly used for stainless steel sheet, special steels are possible on request.
The dimensions XL, XQ, XT and fB are based on the customer's specifications or are designed according to the process conditions. Numerous special designs are also available, you will receive a corresponding offer tailored to your needs and application.